[fusion_builder_container hundred_percent="no" equal_height_columns="no" hide_on_mobile="small-visibility,medium-visibility,large-visibility" background_position="center center" background_repeat="no-repeat" fade="no" background_parallax="none" parallax_speed="0.3″ video_aspect_ratio="16:9″ video_loop="yes" video_mute="yes" border_style="solid" flex_column_spacing="0px" type="legacy"][fusion_builder_row][fusion_builder_column type="1_1″ layout="1_1″ background_position="left top" background_color="" border_color="" border_style="solid" border_position="all" spacing="yes" background_image="" background_repeat="no-repeat" padding_top="" padding_right="" padding_bottom="" padding_left="" margin_top="0px" margin_bottom="0px" class="" id="" animation_type="" animation_speed="0.3″ animation_direction="left" hide_on_mobile="small-visibility,medium-visibility,large-visibility" center_content="no" last="true" min_height="" hover_type="none" link="" first="true"][fusion_text columns="" column_min_width="" column_spacing="" rule_style="default" rule_size="" rule_color="" content_alignment_medium="" content_alignment_small="" content_alignment="" hide_on_mobile="small-visibility,medium-visibility,large-visibility" sticky_display="normal,sticky" class="" id="" font_size="" fusion_font_family_text_font="" fusion_font_variant_text_font="" line_height="" letter_spacing="" text_color="" animation_type="" animation_direction="left" animation_speed="0.3″ animation_offset=""]
Why is a Sewer Camera Inspection important? A home inspection is a non-invasive inspection of the visual and readily accessible components of the property. "Visual and readily accessible" are the key terms to that statement. We can not evaluate the main drain line that is buried in the ground or in the slab. In a typical property we are limited to the drain and waste lines under the sink basins. 
For this reason, when first entering into a bathroom we will start running the fixtures while we inspect the rest of the room. This allows us to run a great amount of water to check drainage and flow. It is extremely common to find a slow drain within the sink and shower drains. However, this is typically a back-up having to do with hair in the drains.
But The Drainage is Perfectly Fine
It is incredibly difficult to reproduce "lived in" conditions during the short period at a home inspection. No amount of water can mimic the family household with never ending loads of laundry and 2 teenage girls fighting over the shower. Just realizing my future when my two girls get older.
There has been a few times where clients stated they had a major back-up shortly after moving in. Though, they acknowledged we couldn't have done anything about it, it is still something we don't like to hear. The wonderful thing is there is a way to visualize these lines before they become your problem.
Here Was The Very First Use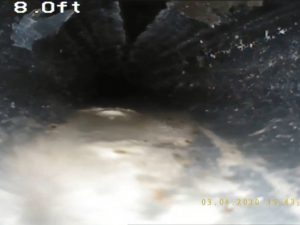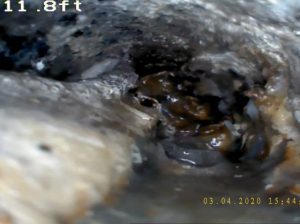 I'll never forget this client. Him and his wife were a sweet couple moving from New York. I let him know I had a new piece of equipment that I would like to field test. If he was ok with it, I would love to offer the service free of charge. It's no surprise that he excitedly accepted.
During the inspection there were no indications of back-ups or slow drainage. I did not expect to find any concerns. However, much to my surprise, I almost instantly ran into some standing water. As seen in the first image, within eight feet we noted the start of a back-up. Then, only three more feet into the line unveiled that it was almost completely blocked. This portion of the drain shows a massive grease blockage. It still baffles me that there were no signs of this back-up inside the home.
In Summary
A Sewer Camera Inspection is absolutely immeasurable in the value it brings our clients. Deficiencies in these main drain lines are found in any type of plumbing material. We even find issues in new construction. I highly recommend a sewer drain line inspection added to any home inspection.
[/fusion_text][/fusion_builder_column][/fusion_builder_row][/fusion_builder_container]