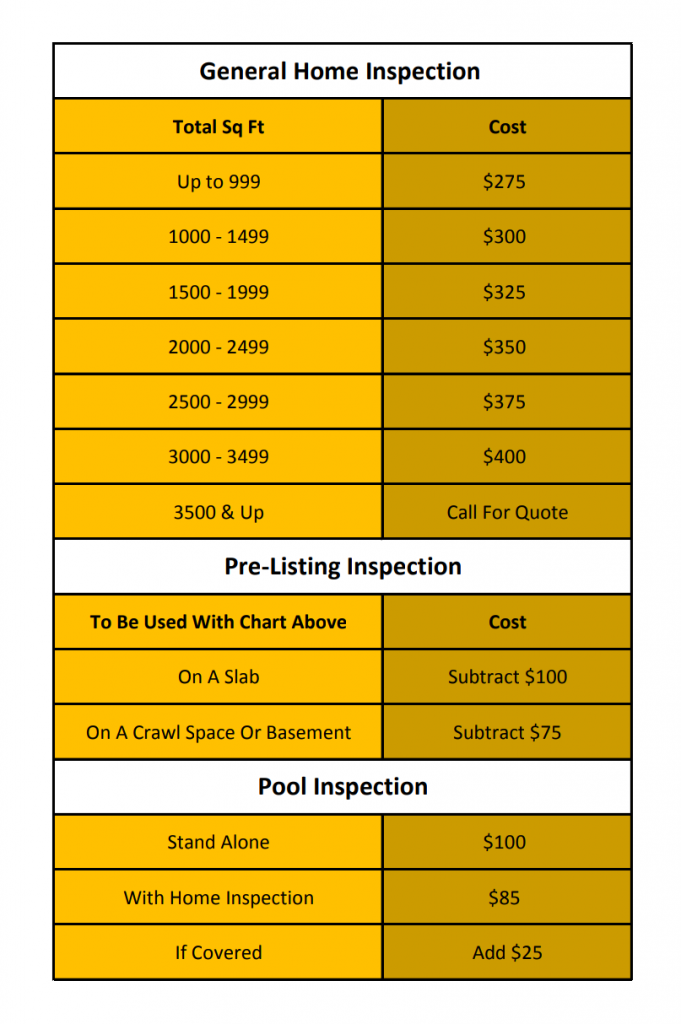 Buyer's Inspection
The typical inspection takes 3 hours. I recommend that my clients accompany me during the entire inspection. This will give you the ability to ask questions throughout. 

Seller's Inspection
Thinking about selling your home? Don't let a major defect be the reason a contract falls through. Knowing before allows you to shop around for a reasonably priced repair.


11 Month Warranty Inspection
I will complete a full and detailed inspection on your home. Allowing you to get covered items repaired before your warranty expires. 


Pool Inspection
Use the same pro to complete your pool inspection. You will have the pool integrated into the home inspection report. 

I originally anticipated offering discounts to military, fire, and police. However, the more I thought about it, the more I thought this money should be given back. When you receive any service from First Glance Home Inspections, 8% of the proceeds will be donated to one of these three organizations of your choice. 
CHKD relies on the generous support of our community to ensure the hospital is available for every child who needs our services. Each gift to The Virginia Children's Hospital, Virginia's only free-standing children's hospital, helps keep the children of our region healthy, provides families with valuable resources, and ultimately strengthens our community.
Vigilant Watch, Inc. is a 501(c) (3) non-profit organization providing support to our regional public safety officials, active duty or retired, and their immediate families, who have suffered a hardship based on injury, illness or catastrophic event, which has created a financial or physical hardship. We support the seven cities of Hampton Roads and the Eastern Shore of Virginia (Virginia Beach, Norfolk, Chesapeake, Portsmouth, Hampton, Newport News, Suffolk). We work solely on contributions and donations to offer financial, advisory and moral support.
The Portsmouth Humane Society is a non-profit Virginia corporation. We depend upon charitable contributions to accomplish our work and on volunteer support to augment a very small paid staff. We were founded in 1889 and believe that we are the oldest continuously operating animal welfare organization in the Commonwealth of Virginia. PHS is dedicated to caring for homeless animals in the community by promoting their adoptions into loving, permanent homes. We also provide education and community outreach programs to help decrease the pet overpopulation problem.